For More on Al Gowan, vist algowan-books.com
Al Gowan was in Harold Cohen's first class as he began the design program at Southern Illinois University in 1955 and in 1959 the day Buckminster Fuller walked into the lights. A practicing graphic designer and writer, he taught at Indiana University, Purdue University, Boston University, and is a professor emeritus of the Massachusetts College of Art and Design. His articles on design have appeared in PRINT and ID, and he is the author of two books on design topics: Nuts & Bolts: A Public Design Casebook and T.J. Lyons, A Biography and Critical Essay. He has also written articles and fiction that have appeared in Yankee and Ploughshares. His two novels, Santiago Rag and Zamora's Tattoo, and his collection of short stories, Fort Momma, are available at Amazon.com
---
Thirty years after Bucky died, the beat goes on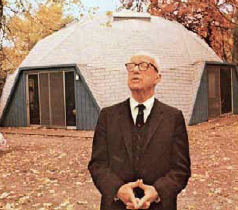 Author Al Gowan PowerPoint story on
Fuller's greatest decade.
American Institute of
Architects In Chicago

Wednesday, June 5, 5:30 PM
35 E. Wacker Drive, Suite 250

SHARED VISION: The Second American Bauhaus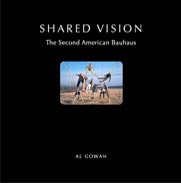 "In this book Al Gowan brings to light a missing chapter in American design history. The people and events he includes were crucial to charting new directions for design in the United States and worldwide. "
-Victor Margolin, Professor Emeritus
of Design History
University of Illinois, Chicago

"Al Gowan's Shared Vision is a valuable addition to the record of the influence of the Bauhaus in post-war America. His interviews with participants bring it alive."
-Robert Campbell, architect and Pulitzer Prize winning architecture critic for the Boston Globe


To see inside the book, click the cover.
SHARED VISION: The Second American Bauhaus
Merrimack Media, 240 pages, 250 photos and illustrations
Publication October, 2012
Here is the story by someone who was there, told in the words of those who changed the world with bent soda straws, smashed tomatoes and structures that encompassed the stars.
Harold L. Cohen's Design Department gave us new ways to think and to design.
Buy the Paperback direct
$25.00